Welcome Aboard
The Waterfront Inn bed and breakfast delivers quality, comfort and home from home hospitality at affordable prices, all set in the perfect beachside location.
If you're looking for Bed and Breakfast in Westward Ho! The Waterfront Inn really does have all of your needs covered. We also offer extremely competitive rates for 1 night stays, weekend breaks or family holidays.
The Waterfront Inn, Westward Ho!'s, with a fantastic coastal location, besides 2 miles of award-winning blue flag beach and just minutes away from the Royal North Devon Golf Course, Appledore, Bideford, and surrounding areas.
Our open-plan bar serves a selection of mouth-watering meals to satisfy the most ravenous of appetites. A wide selection of beer, wine, and spirits to enjoy and take in the atmosphere. Watch one of the famous sunsets over Lundy Island, relax and unwind.
For a great night's sleep, retire to one of our light and airy bedrooms. Our B&B accommodation will leave you feeling fully refreshed and allow you to unwind and fully recharge after a relaxing good night's sleep.
We offer you a choice of 11 rooms and is ideal for families, business and leisure breaks.
ACCOMMODATION FEATURES
All of our bedrooms offer en-suite bathrooms
Complimentary tea and coffee making facilities
Freeview flat-screen TV
Free WiFi
Fluffy towels & Complimentary toiletries
Inclusive during your stay is a mouthwatering full English breakfast
Complimentary onsite parking
Hairdryers
Bar & Restaurant
Games room
Outdoor play equipment for the little ones
FAMILY SUITES
Choice of adjoining twin rooms or an additional single bed in a large double room.
Prices from £134 per night.
Includes full English breakfast.
DOUBLE ROOMS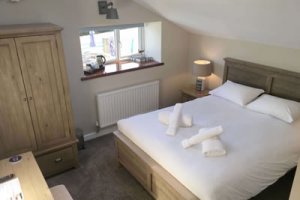 Stunning coastal themed rooms with ensuite bathrooms. Perfect choice.
 Prices from £104 per night.
Includes full English breakfast.
TWIN ROOMS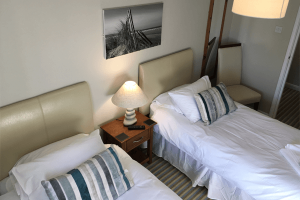 Delightful rustic coastal themed room with ensuite bathroom. Single occupancy available.
Prices from £104 per night.
Includes full English breakfast.
Booking Conditions
Waterfront Inn Booking Terms & Conditions
Accommodation will be available from 4.00pm on the day of your arrival and must be vacated by 10am on the day of departure.
Bookings will only be accepted if at least one member of the party staying is 18 years old or over.
A deposit of £50 per room will be required at the time of making your reservation.
 Bookings will only be confirmed when the deposit has been paid.
 Full payment for the period of your stay must be made 6 weeks prior to arrival. If your booking is in less than 6 weeks time, then full payment will need to be made at the time of making the booking.
If a booking is subsequently cancelled, our policy for providing refunds of monies paid is:
For cancellations made over 14 days from due date of arrival, we will provide a full refund.
For cancellations made between 7 and 14 days of due date of arrival, we will retain £50 and refund the balance to you.
For cancellations made less than 7 days from due date of arrival, or for non-arrivals, there will be no refund due to you.
Please note that the accommodation is above a pub and restaurant. On Friday and Saturday evenings and at Bank Holiday weekends we do on occasion have live entertainment and the sound from this can filter through to the accommodation.
On your first day of arrival, check in must be before 9:00pm. The Waterfront Inn will be locked at 10:00pm. When you check in you will be provided with a key which will give you "out of hours" access to your accommodation.
Whilst we will endeavour to allocate the room chosen at the time of booking, if in the event this is not possible, we reserve the right to allocate another room. In such an event we will endeavour to contact you at our earliest convenience to notify you of the change.
The Waterfront Inn is Licensed premises. Therefore we would ask that any children up to the age of 18 are always accompanied by an adult whilst in the bar and restaurant areas. In addition, our License prohibits children up to 18 being in the bar and restaurant areas after 9:00pm from 1st October to 31st March and after 10:00pm from 1st April to 30th September.
If a guest causes a nuisance, or a danger to other guests or employees of the Company, or damage to our property, we reserve the right to terminate the stay without notice, and without compensation or refund whatsoever.
Please note we have a No Smoking policy inside the Waterfront Inn and this also applies to your room.
The Company will not accept liability to any person staying at The Waterfront Inn for any personal injury, fatal or nonfatal, or for persons coming onto the premises at the guest's request.
The Company will not accept liability for any loss or damage for anything brought onto the premises, including motor vehicles, personal effects or luggage, howsoever caused, or for persons coming onto the premises at the guest's request.
If you have an accident at the premises (in the accommodation or in the grounds), you must inform us immediately where practical, but not later than your departure. If you do not inform the Company prior to your departure, the ability for us to investigate could be severely hampered. Therefore, unless there is a valid reason for such delay in advising the Company, then any complaint or claim may not be dealt with.
Breakfast Included
Monday – Friday 7:30am – 9:30am 
Saturday & Sunday 7:30am – 10:00am
Enjoy a traditional full English breakfast and start your day the right way.
Complimentary Parking
 Parking is available for our guests in our car park located at the venue.
Operating on a first come, first served basis.
Complimentary Wifi
Available in all our rooms at The Waterfront Inn for your convenience.
SMOKING POLICY
Please note that in the interest of comfort and safety of all our guests, we operate a strict 'non-smoking' policy in all accommodation. In the event of non-compliance, a charge of £100 will be levied for professional cleaning of the room. If a guest is found to be smoking within accommodation they will be asked to leave The Waterfront Inn. Smoking out of the windows is strictly prohibited and will be treated as smoking within the accommodation and therefore a breach of our smoking policy.